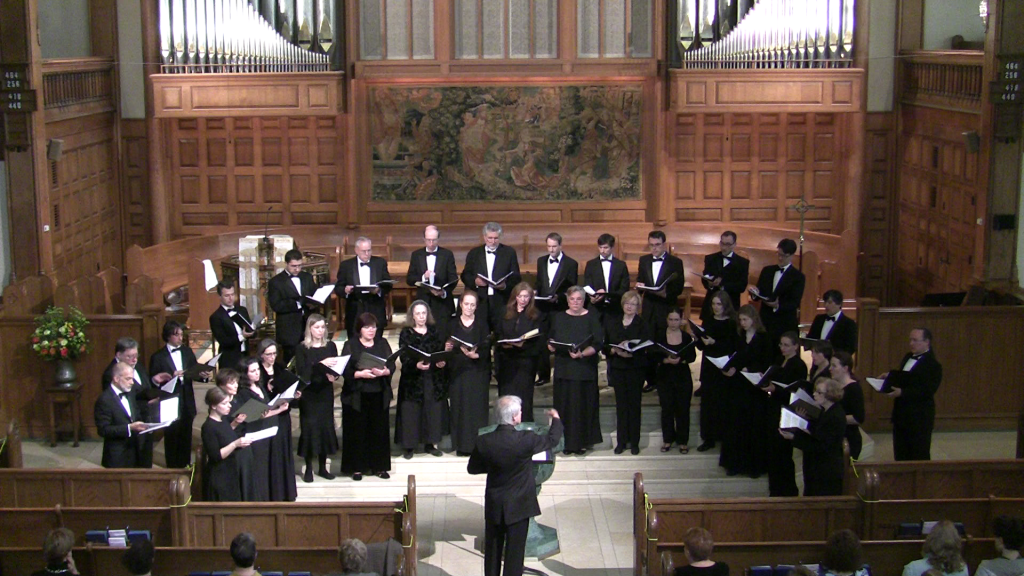 ---
Russian Chamber Chorus of New York (RCCNY) was founded in 1984 by Artistic Director and Conductor Nikolai Kachanov. Over the course of thirty-five years, the chorus has become America's preeminent Russian vocal ensemble and one of the world's greatest ambassadors of the Russian creative spirit. Known for its stylistic versatility, richness of sound and subtlety of expression, RCCNY commands a wide repertoire, from ancient liturgical chants to world premieres by leading contemporary composers.
Performances
RCCNY is honored to have participated in the historic concert series Music and Dictatorship: Russia under Stalin, with Czech Philharmonic Orchestra, under Vladimir Ashkenazy, at Carnegie Hall in 2003. The chorus performed Prokofiev's Hail to Stalin, an excerpt from his film score for Ivan the Terrible, Shostakovich's score for The Fall of Berlin, Anti-formalist Rayok, and his Symphony No. 13, "Babi Yar."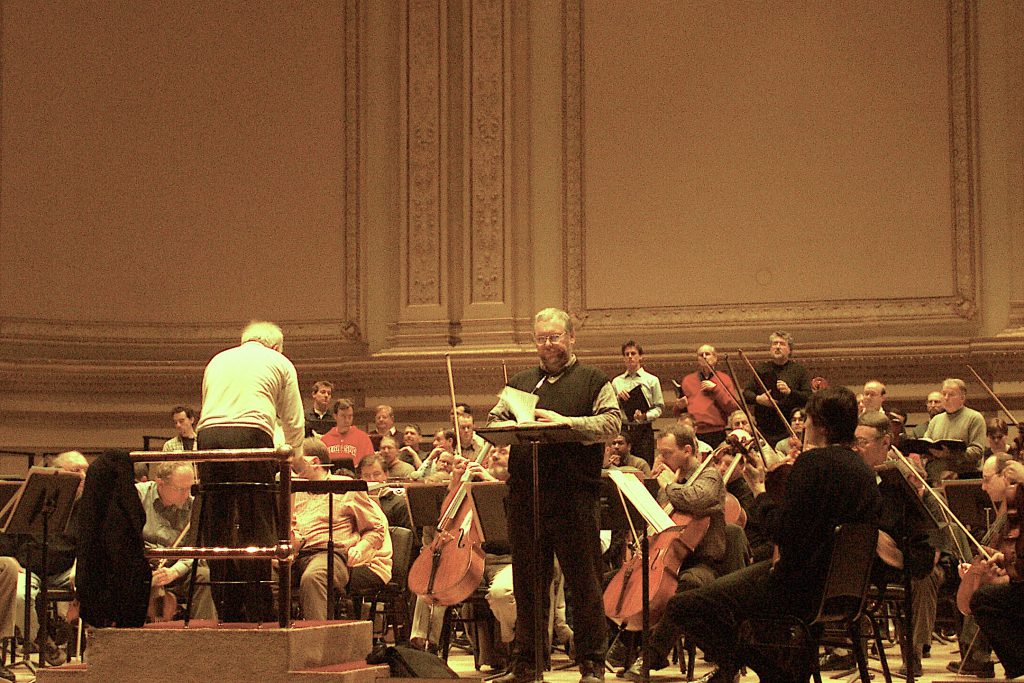 Other Carnegie Hall performances include the American premiere of Sergei Taneyev's opera Agamemnon with the Manhattan Philharmonic under Peter Tiboris and the Aquila Theatre Company, featuring Olympia Dukakis; Anti-formalist Rayok with the Moscow Virtuosi under Vladimir Spivakov; the American premiere of Mikis Theodorakis' opera Electra; Mahler's Symphony No. 2 with the Kirov Orchestra under Valery Gergiev (New York Times reviewer Allan Kozinn described this performance as "glorious"); Tchaikovsky's cantata "Moscow" with the American-Russian Youth Orchestra under Leon Botstein (Carnegie Hall and Tanglewood); Prokofiev's cantata Alexander Nevsky with the St. Petersburg Philharmonic, under Yuri Temirkanov; as well as participation in the Stars of the Kirov Celebrate Russia Day event.
RCCNY performed at the Guggenheim Museum, as part of the opening celebration surrounding the opening of the exhibit Russia! The chorus appeared on the nationally acclaimed NPR radio program "A Prairie Home Companion" with Garrison Keillor.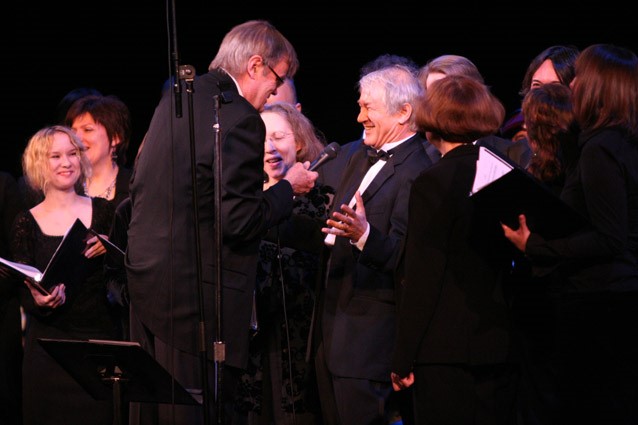 RCCNY performances also include Rachmaninoff's monumental Vespers: All-Night Vigil to sold-out audiences at the Cathedral of St. John the Divine; Rachmaninoff's Liturgy of St. John Chrysostom at the New York Festival of Sacred Music, produced by John Schaefer and Philip Glass. This event, being part of a World Festival of Sacred Music that spanned two years and 19 cities, was simulcast on WNYC-FM. RCCNY also performed at the "Re-Encountering Rachmaninoff" festival, where James Oestreich (The New York Times) praised the group for the "suppleness and otherworldliness of its sound." Willa Conrad (The Star-Ledger) called RCCNY "an inspired choice" and hailed the chorus's "stylistic purity" and "exciting, spontaneous performance." RCCNY's performance of Tchaikovsky's Liturgy of St. John Chrysostom at the Bard College "Tchaikovsky Rediscoveries" (American premiere) festival was called "splendid, radiant, and sonorous" by Paul Griffiths (The New York Times). James Oestreich (The New York Times) called the chorus's performance of Yuri Yukechev's music, "superbly prepared and deftly realized."
The chorus performed a sold-out program celebrating the 300th anniversary of the city of St. Petersburg as the culminating event of the Harriman Institute Symposium, St. Petersburg Through American Eyes.
RCCNY collaborated with The Canticum Novum Singers to perform Schnittke's masterpiece Concerto for Choir, and with The Riverside Church Choir in the program "Reflections: Ten Years Later"; and also with the Bachanalia Chamber Orchestra and Nina Beilina, in a rare full-score performance of Alexander Gretchaninoff's Liturgia Domestica.
The chorus created three concert series: "Spirit of Old Russia," "Parallels and Crossings," and "Music without Borders.." For the "Music without Borders" concert series the chorus performed music from Ukraine, Belorussia (Belarus), Armenia, Estonia, Georgia, Hungary, Latvia, Lithuania, Poland, and Tuva.
Performances by RCCNY have been featured on "New Sounds" with John Schaefer and "Around New York" with Fred Child (both on WNYC-FM); and "The Choral Mix" with Kent Tritle (WQXR).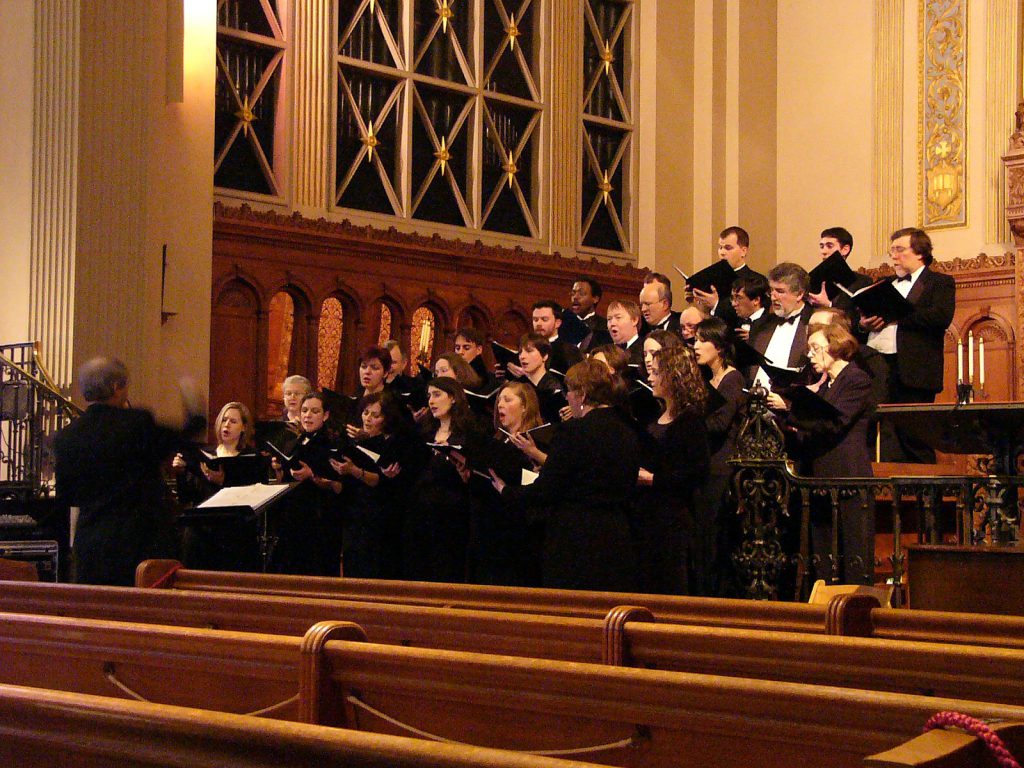 Dedication to Contemporary and Underexposed Works
The chorus brought ancient znamenny chants, previously banned in the Soviet Union, to American audiences. The Library of Congress used these chants for its documentary Old Believers, part of the Great Heritage series.
The chorus has performed contemporary music by composers including Arvo Pärt, John Tavener, Feliksas Bajoras, Victor Copytsko, Krzysztof Pendercki, Efrem Podgaits, Alfred Schnittke, Mikhail Zeiger, and others, as well as original compositions and arrangements by Nikolai Kachanov. Many of these works were commissioned by RCCNY.
RCCNY premiered Alexei Haieff's long-lost masterworks, Holy Week and Easter, at the Cathedral of St. John the Divine.
The chorus's wide repertoire includes music from many other countries, as well as by American composers. A recent RCCNY program, "Currents of Jewish Classical Tradition," included music by American, Israeli and Russian composers.
---
Recordings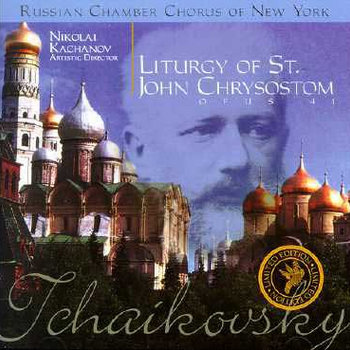 Tchaikovsky: Liturgy of St. John Chrysostom
Chosen by New York Times critic James Oestreich to be number four on his list of the Top Ten Classical CDs of 2001.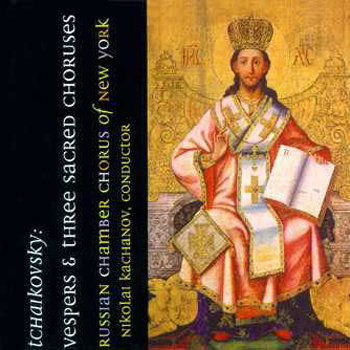 Tchaikovsky: Vespers: All-Night Vigil (Koch International).
A "luxurious, rich interpretation" of this seminal liturgical work (Detroit Free Press).
Temporarily Out of Stock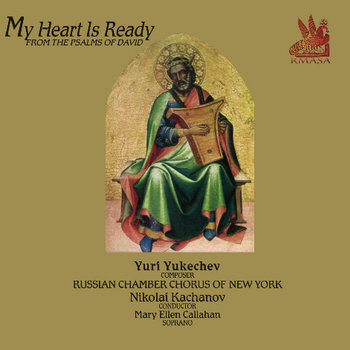 Yuri Yukechev: My Heart Is Ready and By Candlelight
(Helicon).
Two cantatas by this contemporary Siberian composer, "superbly prepared, richly imagined and deftly realized" (The New York Times).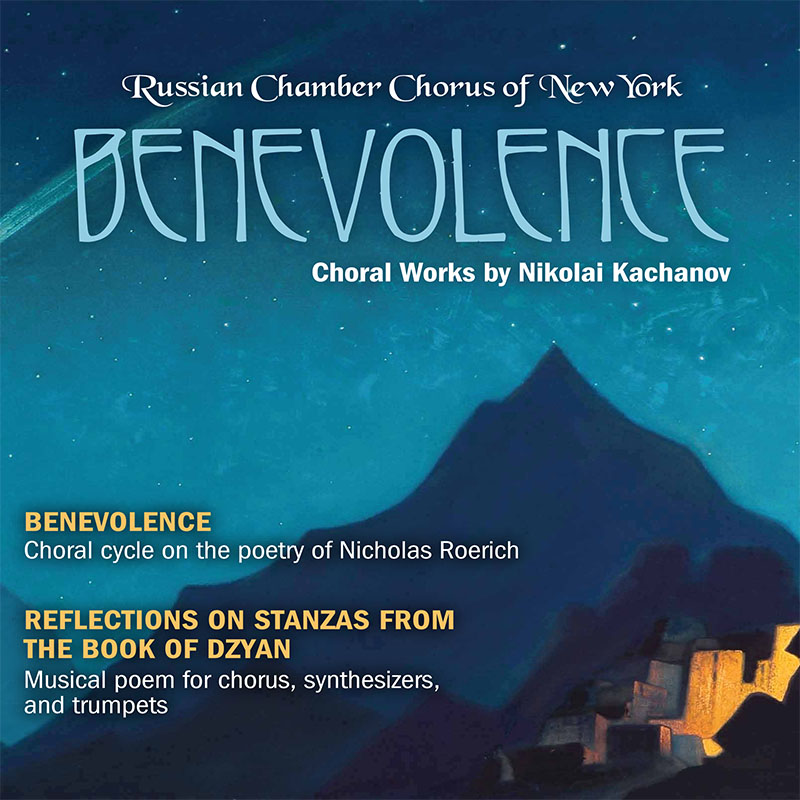 Nikolai Kachanov: Benevolence.
Two transcendent compositions interweaving East and West: Benevolence, a choral cycle, and Reflections on Stanzas from the Book of Dzyan, for chorus, synthesizer and trumpets.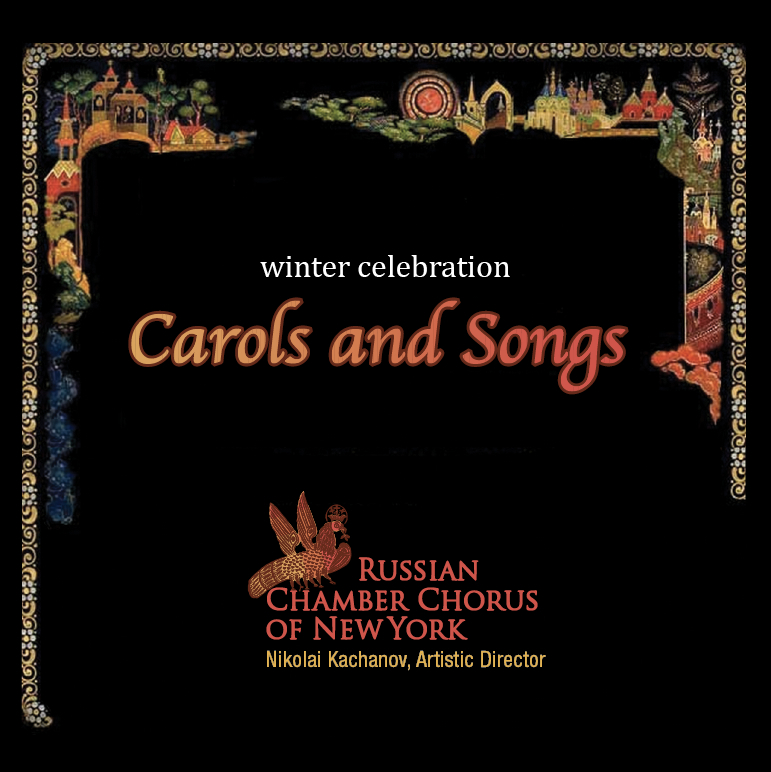 Carols and Songs features Ukrainian carols, arranged by Maestro Kachanov, Rachmaninoff's Six Songs for Women's Voices and his Vocalise, selections from Grechaninoff's Liturgia Domestica, and Shchedryk, the Ukrainian folk song known as Carol of the Bells. "An outstanding musical gift for the holidays… attractive compositions for every taste… singing with spirit, musicality and finesse… will be thoroughly enjoyed" (Musica Russica)
---
Press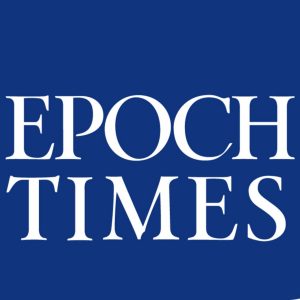 Read the Epoch Times article of January 2, 2017, profiling RCCNY's concert bridging the works of the legendary poets William Shakespeare and Alexander Pushkin.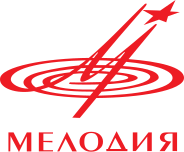 Melodiya Magazine (Moscow) profiled the Russian Chamber Chorus of New York and artistic director Nikolai Kachanov, saying "the primary goal of the chorus — to make Russian music known to American audiences and encourage its performance by American choirs — has a meaning beyond just the boundaries of the concert hall."
---
Concert Reviews
"Extraordinary: richly imagined and deftly realized."
— James R. Oestreich, The New York Times
"Wonderfully passionate, heartfelt singing."
— Alex Ross, The New Yorker
"The suppleness and otherworldliness of [RCCNY's] sound here made the look of the score on the page seem impossibly square and made the secular works in the rest of the program seem all the more mundane."
— James R. Oestreich, The New York Times
"Well-schooled in the richly aromatic Russian choral style that depends on resonant, velvety, deep bass voices that ripple upward through waves of purely articulated treble voices in consonant harmonies."
— Willa J. Conrad, The Star-Ledger
"The performance of the Tchaikovsky Liturgy was splendid. The Russian Chamber Chorus of New York, under Nikolai Kachanov, was radiant and sonorous; and the whole Slavonic sound was effective."
— Paul Griffiths, The New York Times
---
CD Reviews
"Here is another underexposed gem of the New York music world in a piece that it has honed beautifully in recent years and now recorded. If you don't know this work-with Rachmaninoff's Vespers, a cornerstone of the transcendent literature of the Russian Orthodox Church-you only think you know Tchaikovsky."
— James R. Oestreich, The New York Times, on Tchaikovsky: Liturgy of St. John Chrysostom
"This disc is quite simply the best recording of Tchaikovsky's Liturgy of St. John Chrysostom to date. It is the first recording that treats Tchaikovsky's composition for what it is–a through-composed setting of the complete Russian Orthodox DivineLiturgy, intended by the composer for performance in church, however. Accordingly, this recording is the first to include the complete chants of the deacon, rendered with great authenticity and sonorous splendor by Protodeacon Andre Papkov of the Holy Trinity Russian Orthodox Monastery, and the chants of the celebrant, richly and tunefully rendered by tenor Nicholas Denysenko, a graduate of St. Vladimir's Orthodox Seminary. Conductor Nikolai Kachanov, who has directed extensively in Orthodox churches, understands how to render this music in a way that does not conflict with the spirit and character of the Orthodox liturgy, unlike most earlier recordings, which employ a distinctly "secular" approach—overly dramatic and outwardly glamorous, but ultimately lacking in inner depth. The Russian Chamber Chorus, comprised of men's and women's voices, sings with the type of transparency and clarity that does justice to this music, which was originally conceived for a chorus of boys and men. In recent years, this non-professional group has grown in stature to a level of excellence that places it alongside some of the best professional church choirs in Russia and elsewhere. The expertly written notes and translations (E only) are accurate and informative. This "Limited Edition" release, not available in most stores, is not to be missed!"
— Vladimir Morosan, Musica Russica, on Tchaikovsky: Liturgy of St. John Chrysostom
"Conductor Kachanov, a native of Russia, who has lived in New York since 1981, has molded his choral sound well…. Intonation is also fine, and the recording, made in St. John the Divine, contributes no small part into the venture… This new one …can be heartily recommended."
— Althouse, American Record Guide, on Tchaikovsky: Liturgy of St. John Chrysostom
"… This disc advances a new idea of completeness …. In this performance instead of a succession of "Amen" and "Lord have mercy" from the choir in the litanies, we hear the deacon (a bass) and the celebrant (a tenor), both in excellent voice, intoning the verses and invocations …they [RCCNY] produce a pretty convincing sound…this disc will fill your needs very well."
— Jerome F. Weber, Fanfare, on Tchaikovsky: Liturgy of St. John Chrysostom
"There is none of Tchaikovsky's melancholy or sweeping emotion in his liturgical works. Indeed, he wrote so little sacred music that this recording is worth possessing for that reason alone. Tchaikovsky was spiritually moved by the vespers and the eternal questions of life. In both the vespers and choruses, the composer is more restrained but no less sentimental. The vespers were banned during Tchaikovsky's time as too western and have been mostly neglected since. Here, conductor Kachanov and the chorus bring a luxurious, rich interpretation to the work."
— Chris Ledbetter, Detroit News and Free Press, on Tchaikovsky: Vespers & Three Sacred Choruses
"Prior to the appearance of this outstanding disc there have been no worthwhile recordings of this seminal work. The Russian Chamber Chorus of New York continues its high standard of artistic and professional excellence. Their singing is tuneful, well-blended, and has the clarity of texture…. The interpretation displays the director's acquaintance with a liturgically appropriate style…. Everything is 'as it should be.'"
— Vladimir Morosan, Musica Russica, on Tchaikovsky: Vespers & Three Sacred Choruses
"It is simply hauntingly beautiful choral music. Yukechev's writing is quite melodic and contrapuntal, with some elements of minimalism, but for the most part it is representative of Russian choral composers' preoccupation with sonorous beauty and consonance.… Lovers of beautiful choral music should not miss this recording!"
— Vladimir Morosan, Musica Russica, on Yuri Yukechev: My Heart is Ready
---
Meet the Artistic Director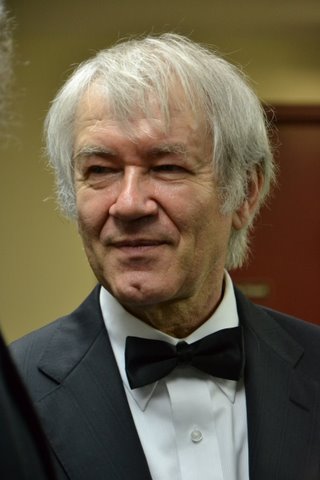 Nikolai Kachanov, Founder and Artistic Director of the Russian Chamber Chorus of New York, was born in Russia in the Siberian city of Barnaul, capital of the Altai Region. He holds a Ph.D. in choral conducting from the Novosibirsk Conservatory and completed his post-doctoral studies at Moscow Conservatory. In the 1970s, Kachanov taught at Novosibirsk Conservatory and performed as a choral conductor. In 1981, Maestro Kachanov moved to the United States with his wife, Tamara, a professional musician, who became the Chorus' Executive Director.
Kachanov is devoted to presenting new and underexposed works that illustrate Russia's rich heritage and its contemporary spirit. He introduced audiences to the ancient chants previously banned in his homeland and completely unknown in America. The Library of Congress used these chants, performed by the chorus, for its documentary Old Believers, part of the Great Heritage series. He also created the Ussachevsky Festival of Russian-American contemporary music, which was held at the Cathedral of St. John the Divine in New York. Kachanov has developed several RCCNY concert series: Parallels and Crossings, Spirit of Old Russia, and Music without Borders. The latter presented many American premieres of choral music from Russia's neighboring countries.
Kachanov has prepared large concert choruses for Vladimir Ashkenazy, Leon Botstein, Valery Gergiev, Yuri Temirkanov and Peter Tiboris; and participated in the U.S. premiere of John Tavener's all-night vigil, The Veil of the Temple, at the 2004 Lincoln Center Festival.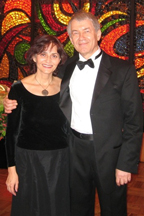 Nikolai Kachanov released a recording The Call in the spring of 2003. Additionally, two of his choral works, Benevolence, a five-part choral cycle set to the poetry of Nicholas Roerich, and Reflections on Stanzas from the Book of Dzyan (part of H.P. Blavatsky's Secret Doctrine) for chorus, synthesizers and trumpets, are part of the CD recording Benevolence, released in 2014.
Kachanov has been interviewed by Fred Child for NPR's From the Village to the Concert, and on the WNYC programs Around New York with Fred Child and New Sounds and Soundcheck with John Schaefer.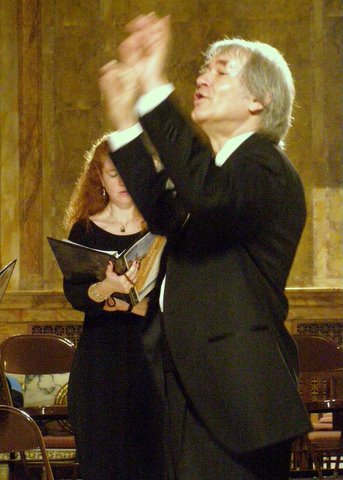 In 2016 he and his wife Tamara created a new choral ensemble, The Nikolai Kachanov Singers. The group's first performance was on September 21 at Carnegie's Zankel Hall as part of "Music for a Sustainable Planet" where they performed Yuri Boguinia's "Path to Kailas", commissioned and dedicated to the Nikolai Kachanov Singers. Also on October 1 at Weill Recital Hall at Carnegie, the ensemble performed George Oakley's "Stabat Mater" dedicated to Nikolai Kachanov.
---
Russian Musical Arts Society of America, Inc.
RMASA was founded in 1985 for the express purpose of creating and supporting the Russian Chamber Chorus and Early Russian Music Ensemble of New York. RMASA promotes intercultural awareness by commissioning, presenting and recording new or unknown works for American audiences, bringing contemporary composers and performers from Russia, and publishing rare and lesser-known music, including early Slavic liturgical music. Since its founding, RMASA has sponsored concerts in various cities in the United States and Canada.
Russian Musical Arts Society of America, Inc.

e-mail:support@rccny.org